Learn more about North Star High School
Address and location
330 Simcoe Street, Amherstburg, N9V 0H2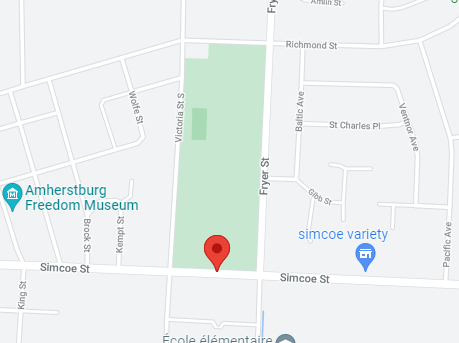 Contact us
Schedule - Bell Time
Warning Bell - 8:15am
Period 1: 8:20 - 9:35
Period 2: 9:40 - 10:55
LUNCH
Period 3: 11:40 - 12:55
Period 4: 1:00 -2:15
Promotional Video
Accessibility
We are committed to providing an accessible environment for students, staff, families and our community. Learn how you can notify us about an accessibility concern for your child, view our Multi-Year Accessibility Plan and find out more about our school's accessible infrastructure.
School history
In 2015, the Greater Essex County District School Board made the decision to close General Amherst High School, as well as Western Secondary School and combine the two into a new building in Amherstburg. The purpose of this new building was to provide programs and services that focused on meeting the needs of students from both Western and General Amherst. Construction of the building began in November 2020 at the south end of Centennial Park in Amherstburg.
In the Fall of 2021, the Trustees and the Board decided on the name North Star High School as the name for the new school. The name was chosen by the Trustees because it symbolized the contribution of the Indigenous and Black communities to the area. With construction continuing through 2022, the building is scheduled to open in the Fall of 2022.
We are excited to merge these two schools and we look forward to offering a number of academics (science, english/french, business, humanities, mathematics, computer science) , arts (music, arts, drama, dance), and physical education. We are also offering an extensive technology program including: Manufacturing (Precision Machining), Transportation (Automotive Service), Hospitality & Tourism (Culinary Cooking and Baking), Hairstyling & Aesthetics, Construction (Woodworking), Communications (Animation, TV & Video) and Technological Design (Architectural and Mechanical CAD).
Bullying prevention and intervention
The GECDSB's Bullying Prevention and Intervention Plan outlines our long-term, school-wide approach regarding bullying prevention and intervention, including:
Education, awareness and outreach
Bullying and cyber-bullying
Types of behaviour and evaluation of evidence
Policies and procedures
Approved strategies and programs
Goals and action plans
Code of Conduct
The GECDSB's Safe Schools Policy is based on the provincial Education Act and the Ontario Code of Conduct, which set clear standards of behaviour for students, staff, parents, guardians, volunteers and any other individuals involved in public education.
View our Code of Conduct policies, including standards of behaviour and employee standards of conduct.