Welcome to Essex District High School, located in Essex, Ontario. Our focus has always been to offer student-focused learning that fosters academic growth and discovery as well as excellence in extra-curricular activities. Through a number of events held throughout the year, students are encouraged to learn new skills, trades, and improve oral and visual communication abilities.
We make a difference. It's the Raider Way!
Address and location
244 Talbot Street North
Essex ON
N8M 2E1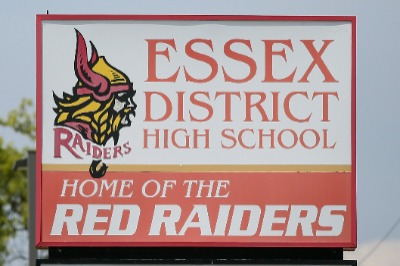 Contact us
Phone: (519) 776-7344
Fax: (519) 945-2981
School history
Essex District High School is a public secondary school in Essex, in the centre of Essex County, Ontario. The school was founded in 1885 and is the oldest operating publicly-funded high school in the province. The school mascots are the Red Raiders. EDHS feeder schools are Essex Public School, Colchester North Public School and Gosfield North Public School. The school motto is "We Make a Difference."
Staff list
Click here to see the EDHS Staff List
Accessibility
We are committed to providing an accessible environment for students, staff, families and our community. Learn how you can notify us about an accessibility concern for your child, view our Multi-Year Accessibility Plan and find out more about our school's accessible infrastructure.
Allergies and foods/scents restrictions
We are committed to maintaining a safe environment for all students and staff. Learn about our allergy alerts, including restrictions on bringing certain types of foods and scents to school.
Bullying prevention and intervention
The GECDSB's Bullying Prevention and Intervention Plan outlines our long-term, school-wide approach regarding bullying prevention and intervention, including:
Education, awareness and outreach
Bullying and cyber-bullying
Types of behaviour and evaluation of evidence
Policies and procedures
Approved strategies and programs
Goals and action plans
Code of Conduct
The GECDSB's Safe Schools Policy is based on the provincial Education Act and the Ontario Code of Conduct, which set clear standards of behaviour for students, staff, parents, guardians, volunteers and any other individuals involved in public education.
View our Code of Conduct policies, including standards of behaviour and employee standards of conduct.
Student Handbook
For more information about the school, its rules and regulations, as well as helpful tips, please refer to the Student Handbook.
Click here to access the Student Handbook