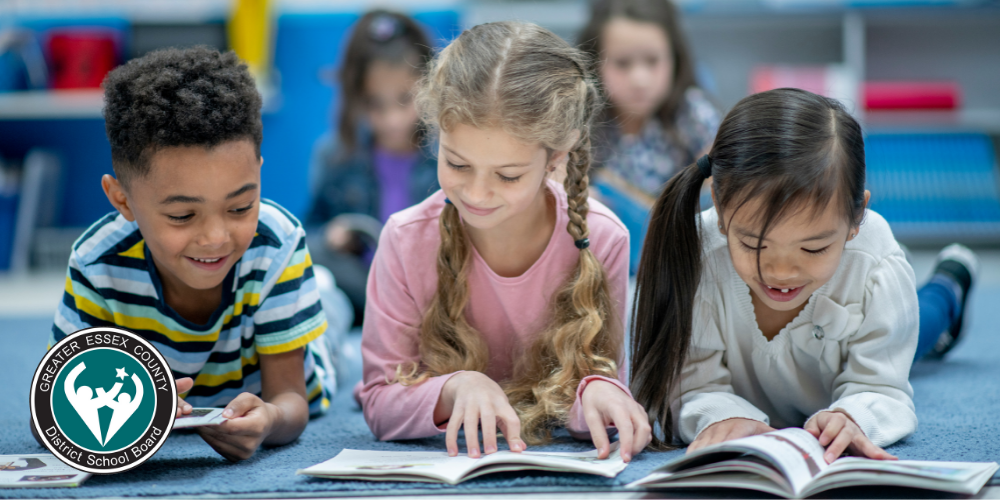 One of the most fundamental responsibilities of educators is to teach students to read. According to the Ontario Human Rights Commission (OHRC) report, Right to Read, word-reading and spelling are foundational for being able to read and write and successfully interact with different forms of communication. When students are not able to read, they are put at an incredible disadvantage that impacts their future life opportunities. The GECDSB is committed to supporting all students as they learn to read in their early and primary years.
Read the Right to Read Executive Summary
In the spring of the 2020-21 school year, the Program Department and the Special Education Department, established the Science of Reading (SOR) Committee. The committee, with its multi-disciplinary lens, developed professional learning sessions for teachers based on the Science of Reading (SOR). The goal of these sessions is to further build teacher capacity around the science of teaching students to read. SOR is evidence-based and demonstrates to us how children learn to read, what instruction is required and what materials and resources are needed to support that instruction. SOR has shown us the importance of Structured Literacy, which applies the Science of Reading to classroom practice. We knew that our reading instruction must become more explicit, systematic and sequential and this was confirmed with the OHRC's Right to Read report.
Since the spring of 2021, the following actions have occurred to support the implementation of evidence-based reading interventions in our board:
Professional development with elementary administrators
A review of all existing reading interventions to determine alignment to SOR
Exploration of appropriate screeners to be used in our Early Years and Primary classrooms
The purchase of the Heggerty Phonemic Awareness program for all elementary school Learning Support Teachers to pilot in the Early Years and Primary classrooms
The development of instructional videos to be used by elementary administrators for school-based professional development
SOR resource kits were created for all teachers in Early Years, Primary Learning Support and RISE classrooms
Additional Literacy Coaches were hired to support out in the system
Recommendations from the Ontario Human Rights Commission (OHRC) report, Right to Read, will continue to guide literacy intervention in the GECDSB.
Since 2017, the GECDSB has had both Lexia and the EmpowerTM Reading Program available in our elementary schools to support students who require a higher level of support in terms of their reading intervention and based on their identification. These interventions are closely aligned to the Science of Reading (SOR) and evidence-based. Lexia is an intuitive online literacy intervention program and the EmpowerTM Reading Program is a program developed by the research teams at Sick Kid's Hospital in Toronto to support students with severe reading challenges including learning disabilities and dyslexia.
At the GECDSB, we understand the importance of assistive technology in supporting students with a learning disability. We work in partnership with the Learning Disabilities Association of Windsor Essex (LDAWE) to provide assistive technology training to students who required assistive technology and devices.
The OHRC report states that because of marginalization and structural inequality, Black and other racialized students, First Nations, Métis and Inuit students, multilingual students, or students from low-income backgrounds are also at increased risk for reading difficulties. The report goes on to state that approaches to early reading that build skills for decoding words and language comprehension have been proven to work best for all students and are essential for many students.
At the GECDSB, we remain committed to supporting all students, particularly those who are marginalized, by providing the appropriate resources and building the capacity of our classroom teachers to provide the necessary literacy instruction to optimize student learning in the area of reading.