October is Cyber Awareness Month
Staff, educators, school leaders and students of all ages can become cyberheroes by:
Using the internet and digital technology for good, spreading positivity and respect
Watching out for and reporting questionable activities such as phishing and scams – letting others know so they don't fall prey to the same phishing attempts and scams
Standing up for themselves and others when hurtful or inappropriate online behaviour is noticed
Keeping personal or sensitive information to themselves and continuously being thoughtful about which information to share online and with whom
Acting as a school and board cyber ally – i.e., helping the board's IT and security team(s) by being the first line of defense in thwarting cyberattacks, being vigilant and doing their part in keeping board systems and information safe and secure
Sharing and promoting what they learn about safe and secure practices with friends and loved ones
Week 1 - Social Media, Gaming and the Metaverse
Social media and online games are great ways to stay connected, interact and have fun with family and friends. It's essential to know how to do so safely – protecting your identity and personal information.
With the increase in popularity of the Metaverse (virtual and augmented reality), interactions with others are occurring in virtual 3D worlds via avatars and technologies such as virtual reality (VR) headsets and augmented reality apps. Some of these interactions can occur in unmoderated worlds increasing the risk of youth and children being exposed to inappropriate content and interactions.
Cyberhero lessons this week:
Check back for Week 2 of CAM!
Interactive Games and Content 2021 Cyber Awareness Month Content
---
Social Media Best Practices
Manage your privacy and security settings - managing your privacy and security settings will help you control who sees and has access to your social media content.
Be aware of who follows your account - only engage with people you know.
Be cautious of what you are posting - am I releasing any private information about myself or my organization?
When in doubt, don't post it - if you feel hesitant about posting certain information, keep it private.
Click links with caution - social media accounts are regularly breached. Look out for language, content, or behaviour that is out of the norm.
Keep up to date on privacy policies - be aware that privacy policies can change and keep up to date on how they impact you or your organization.
Use social media on a secure Wi-Fi network or personal cellular data - only use hotspots or networks that are trusted, and password protected.
Enable multi-factor authentication (MFA) - use MFA where possible, for your social media accounts.
---
Phishing
Information on phishing scams
With phishing scams on the rise, students and parents are asked to exercise heightened awareness to avoid being victims of cyber-crime.
While most phishing attempts come by email, phishing can also come by other means. Phishing text messages (also known as SMS phishing or smishing) are fraudulent text messages, sent by cyber criminals, to try to lure victims into revealing personal or financial information to commit fraud or steal sensitive information or to click links that will install malware used to steal data and damage networks. These messages can arrive by SMS, iMessage, social media platforms, and other messaging platforms.
Phishing text / email messages are disguised to look like they are sent from a trustworthy organization or reputable person. Always use caution before responding to requests for information.
How it works
Phishing scams typically use a threat or opportunity to encourage you to click a link or call a number. Financial incentives, including government payments and rebates, contests, prizes, and giveaways are often part of the lure used by cyber criminals, as well as threats such as legal action, overdue payments or missed deliveries.
In the example below, the smishing screenshot is impersonating a Canada Revenue Agency payment. However, the cyber criminal is attempting to steal the information or infect the device of the user who clicks the link.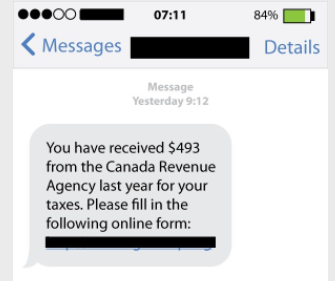 Tips to protect yourself
Do not reply to the text message, do not call the number, do not click on any links in the message. Clicking a link could give cyber criminals access to your information.
Do a web search of the phone number and message. Chances are you are not the first person to receive this message.
Contact the organization directly to inquire about the message you've received. If you believe the message is a scam, contact the organization through their official customer service number to inquire about the message you've received. If they confirm it is not from them, delete the message
If you think you may have been a victim of phishing
Change your passwords.
Report the incident to the Canadian Anti-Fraud Centre toll free at 1-888-495-8501. Visit the Canadian Anti-Fraud Centre's What to do if you're a Victim of Fraud page for more information.
Report the incident to your local police.
Do your part to block cyber-attacks. Remember to persistently practice S.E.A. – Slow down, Examine carefully and Act cautiously.
Other helpful resources
---
Cyber Security Knowledge Library
Want to know more?
For more information, head over to the Knowledge Library on the Cyber Security Ontario Learning Portal.
This content is hosted by Cyber Security Ontario