Social media
Going into the summer break, protect yourself and your information online Summer is here and staying in touch with friends and family is easy using social media. it's important to be proactive and protect yourself from the harms of social media. Social media can be used in a safe way by following some simple tips.
Tips to using social media safely
Ensure anything you post is private and can only been seen by your direct connections.
Review your privacy settings frequently – especially after an application update.
Think before you share online. Keep the following information private:

Personal information – Don't share your phone number, address, or full date of birth.
Location – Verify you're not sharing your location and remove geotags from older photos.
Life news – Post your vacation and events photos when you get back home.
Financial information – Don't post any bank or purchase information online.
Other people's life updates – Be careful with what you share about your friends and family. Always ask permission.
Overcoming FOMO and FOBO
Fear Of Missing Out (FOMO) is the anxious feeling of not knowing what your friends have been up to and the feeling you're not there to have fun with them.
Fear Of Being Offline (FOBO) is the anxious feeling of being disconnected with the online world.
To overcome this:
Focus on meaningful and positive friendships, face-to-face interactions and actual experiences outside of social media – like going for a hike, riding a bike or going to the movie theatre.
Know that your self-worth is not based on the number of likes you get online. Just because others get more likes does not mean they are more interesting than you.
Remember photos and videos are only only a small segment of someone else's life and are often highly edited.
Follow people who inspire you, encourage positivity and happiness or those you could learn from! Learn to filter content that does not help your overall well-being.
If you feel uneasy, talk to a parent, friend or trusted adult.
Resources
---
Cyber Awareness Month
Cyber Awareness Month 2022
Cyber Awareness Month 2022
Staff, educators, school leaders and students of all ages can become cyberheroes by:
Using the internet and digital technology for good, spreading positivity and respect
Watching out for and reporting questionable activities such as phishing and scams – letting others know so they don't fall prey to the same phishing attempts and scams
Standing up for themselves and others when hurtful or inappropriate online behaviour is noticed
Keeping personal or sensitive information to themselves and continuously being thoughtful about which information to share online and with whom
Acting as a school and board cyber ally – i.e., helping the board's IT and security team(s) by being the first line of defense in thwarting cyberattacks, being vigilant and doing their part in keeping board systems and information safe and secure
Sharing and promoting what they learn about safe and secure practices with friends and loved ones
Week 1 - Social Media, Gaming and the Metaverse
Week 1 - Social Media, Gaming and the Metaverse
Social media and online games are great ways to stay connected, interact and have fun with family and friends. It's essential to know how to do so safely – protecting your identity and personal information.
With the increase in popularity of the Metaverse (virtual and augmented reality), interactions with others are occurring in virtual 3D worlds via avatars and technologies such as virtual reality (VR) headsets and augmented reality apps. Some of these interactions can occur in unmoderated worlds increasing the risk of youth and children being exposed to inappropriate content and interactions.
Cyber hero lessons in Week 1:
Week 2 - Cyber Scams and Phishing
Week 2 - Cyber Scams and Phishing
Cybercriminals are continuously finding new ways to scam/trick internet users of all ages. Their favorite techniques include phishing emails, phishing SMS or text messages (also known as smishing) and spoofing/using fake websites and phone numbers to try and trick us into divulging sensitive information such as our identity, personal information, account details and passwords.
Cyberhero lessons in Week 2:
Week 3 - Cyber Hygiene
Week 3 - Cyber Hygiene
Adopting thorough and accurate cyber hygiene habits can stop cyber villains in their tracks. Fortunately for everyone, we can all train ourselves to think proactively about cyber security, online safety, and privacy by establishing solid cyber hygiene practices that become a routine as easily as brushing your teeth.
Cyberhero lessons in Week 3:
Week 4 - Digital Wellness
Week 4 - Digital Wellness
Even with cyber powers, cyberheroes also need to take care of their personal wellbeing by knowing to rest, pause and when to limit the use of digital technology and the internet. Knowing how to moderate our own use of digital technology is something we should all learn to do.
Cyberhero lessons in Week 4:
Knowing how healthy is your relationship with technology (digital wellness quiz)
Avoiding excessive use of digital technologies
Being mindful of the effects of social media use on us and others
Knowing the effects of sleep deprivation from using technology late into the night
Being kind online and blocking hurtful behaviour
Cyber Awareness Month 2021
Cyber Awareness Month 2021
Staff, students, and parents are invited to participate in October's Cybersecurity Awareness Month.
The COVID-19 pandemic shifted the way we rely on and interact with technology. In all areas of our lives, we have seen an unprecedented increase in the use of technology and the internet for staying connected, for recreation, for online learning, and more. Now more than ever, it is imperative that we learn to protect ourselves online.
Adopting safe, secure and healthy habits online is caring for your online presence and digital footprint, while helping to ensure you and your family are protected online.
Visit GetCyberSafe.ca for more information from the Government of Canada.
During Cyber Security Awareness Month (CSAM), we explored how a well-organized cyber attack unfolds. Review the topics below for more information on how to maintain your cyber security.
Show your devices and accounts some love
Fortifying and locking down our devices and online accounts should always be a priority.
Our devices and accounts are what we use to stay connected, to create and publish content, access online services, and play games. They are the doors to our online presence. We use our devices to authenticate who we are, communicate through email, texting, social media, and other tools, and we also use our devices to store personal information locally or in the cloud. Many of us have multiple devices and accounts. Some are personal and some are for work, and some personal devices may be shared with other family members. Keeping track of it all can sometimes be challenging but it is important to do so.
This week take stock of your user accounts and devices and learn how to better protect them.  
Secure your accounts
Enable the strongest authntication tools available on your devices and online accounts (e.g. biometrics, multi-factor authentication, and strong passphrases or complex passwords).
Secure your devices
Updating privacy and security settings on your devices and applications.
Pay attention to your home network and Wi-Fi connections
Safe and secure Wi-Fi connections are just as important as having secure devices and online accounts
Nowadays most devices are connected to the internet through our home network, our school or office network, a data plan, or a public Wi-Fi hotspot. Many of the applications installed on our devices require an internet connection to access online services and function properly. Our devices will often look to connect to available Wi-Fi hotspots irrespective of whether that Wi-Fi connection is safe or not. It is up to the device user to ensure appropriate security and safety measures are taken when connecting to public Wi-Fi hotspots or deciding not to connect.
Securing your home network and actively managing it. Considering upgrading your network router every 3-5 years to take advantage of improvements in security features.
Taking stock of devices connected to your home network and monitoring for unusual activity.
Setting up a guest network for your friends and visiting family members to separate their access and activity from all your home devices.
Setting up a separate network for your smart devices, so if compromises occur, the threat remains isolated from your personal devices that contain personal information.
Care for your personal information – it is valuable!
It is more important than ever to protect our personal information.
With personal devices, smart devices and the internet becoming a routine part of our lives, as we use them to work, learn, exercise, entertain ourselves and socialize, it is more important than ever to protect our personal information and teach our kids to develop habits that will make it part of their day-to-day routine. Like how children learn to be safe outdoors, children need to learn to be safe online.
Familiarize yourself with the terms and conditions of applications you use as some may be sharing your personal information with third-party organizations.
Review and update privacy settings and make it a habit.
Be mindful of your online presence and digital footprint
It's important to manage your online presence and digital footprint!
This past year, kids have faced unique challenges, as many of their in-person activities have been replaced with an increased use of technology. This has resulted in an unprecedented increased online presence and digital footprint for most of us, adults, and kids alike.
Everyone should assume that what is shared online will remain online forever. Every action you take online, and information posted about you contributes to your "digital footprint" which can straddle our personal, student and professional lives. Improving our awareness of the traces of data we leave online and recognising how our individual digital footprints vary can help to improve the protection of our data online.
---
Social Media Best Practices
Manage your privacy and security settings - managing your privacy and security settings will help you control who sees and has access to your social media content.
Be aware of who follows your account - only engage with people you know.
Be cautious of what you are posting - am I releasing any private information about myself or my organization?
When in doubt, don't post it - if you feel hesitant about posting certain information, keep it private.
Click links with caution - social media accounts are regularly breached. Look out for language, content, or behaviour that is out of the norm.
Keep up to date on privacy policies - be aware that privacy policies can change and keep up to date on how they impact you or your organization.
Use social media on a secure Wi-Fi network or personal cellular data - only use hotspots or networks that are trusted, and password protected.
Enable multi-factor authentication (MFA) - use MFA where possible, for your social media accounts.
---
Phishing
Information on phishing scams
With phishing scams on the rise, students and parents are asked to exercise heightened awareness to avoid being victims of cyber-crime.
While most phishing attempts come by email, phishing can also come by other means. Phishing text messages (also known as SMS phishing or smishing) are fraudulent text messages, sent by cyber criminals, to try to lure victims into revealing personal or financial information to commit fraud or steal sensitive information or to click links that will install malware used to steal data and damage networks. These messages can arrive by SMS, iMessage, social media platforms, and other messaging platforms.
Phishing text / email messages are disguised to look like they are sent from a trustworthy organization or reputable person. Always use caution before responding to requests for information.
How it works
Phishing scams typically use a threat or opportunity to encourage you to click a link or call a number. Financial incentives, including government payments and rebates, contests, prizes, and giveaways are often part of the lure used by cyber criminals, as well as threats such as legal action, overdue payments or missed deliveries.
In the example below, the smishing screenshot is impersonating a Canada Revenue Agency payment. However, the cyber criminal is attempting to steal the information or infect the device of the user who clicks the link.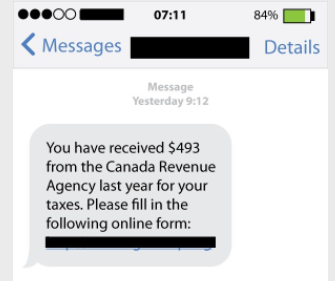 Tips to protect yourself
Do not reply to the text message, do not call the number, do not click on any links in the message. Clicking a link could give cyber criminals access to your information.
Do a web search of the phone number and message. Chances are you are not the first person to receive this message.
Contact the organization directly to inquire about the message you've received. If you believe the message is a scam, contact the organization through their official customer service number to inquire about the message you've received. If they confirm it is not from them, delete the message
If you think you may have been a victim of phishing
Change your passwords.
Report the incident to the Canadian Anti-Fraud Centre toll free at 1-888-495-8501. Visit the Canadian Anti-Fraud Centre's What to do if you're a Victim of Fraud page for more information.
Report the incident to your local police.
Do your part to block cyber-attacks. Remember to persistently practice S.E.A. – Slow down, Examine carefully and Act cautiously.
Other helpful resources
---
Cyber Security Knowledge Library
Want to know more?
For more information, head over to the Knowledge Library on the Cyber Security Ontario Learning Portal.
This content is hosted by Cyber Security Ontario