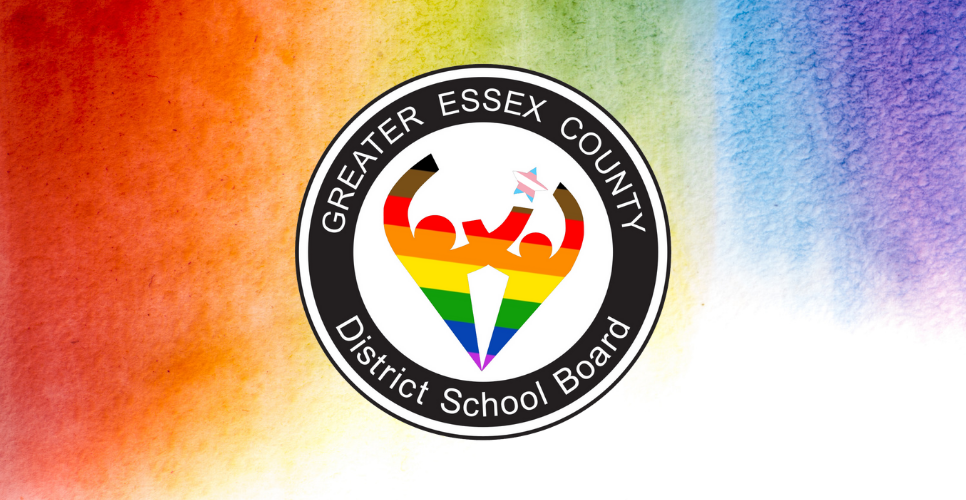 The Greater Essex County District School Board, in partnership with the Run for Rocky, OSSTF, ETFO and Windsor Essex Pride Fest, was proud to host "The Tenth Annual Gender and Sexuality Alliance Conference: A Pride in Education Forum" on May 26th, 2022.
Superintendent Josh Canty, who leads the board's equity initiatives, strategies and programs, states, "…this GSA conference is an opportunity to renew our commitment to creating schools and spaces where 2SLGBTQAI+ students and staff can feel safe and cared for - Where they can see themselves represented in the curriculum, in the classroom and in the hallways."
The conference included a keynote address from Rainbow Veterans of Canada representative Patti Grey, who, in 1981, was purged from the Canadian Armed Forces because of her sexuality, and welcome messages from Nancy Campagna (Run for Rocky) and Wendi Nicholson (Windsor Pride Fest). Students were organized into groups and took part in various workshops including:
Promoting Student Wellness, Well-being and Inclusion with Derrick Biso (they/them)
Diversity, Equity and Inclusion with Julie Leadbetter (she/her)
What Does Two Spirited Mean to You and Others with Melanie Grant - Two Spirited Mohawk Activist (she/her)
BIPOC-Queering Intersectional Barriers, Human Rights Advocacy and Education with Ros Salvador (they/them)
The Rainbow Unicorn with Stephanie Pest (she/her)
Celebrating Pride Month in our Schools – Brainstorming and Creative Session
This year's conference was attended by over 260 students in grades 7-12 representing forty schools, making it the largest ever GECDSB GSA conference. The event would not have been possible without the tireless efforts of Walkerville teacher Walter Cassidy, The GSA for Staff Planning Committee, Teacher Consultant for Equity Amina Abdulle, Kim Garno, teachers and support staff, Create Your Future Advisors, Graduation Coach for Black Students Natalie Browning-Morgan, all the teachers, staff and community members who attended or volunteered their time and last, but most certainly not least, the extraordinary students whose strength and enthusiasm made this day so joyful.