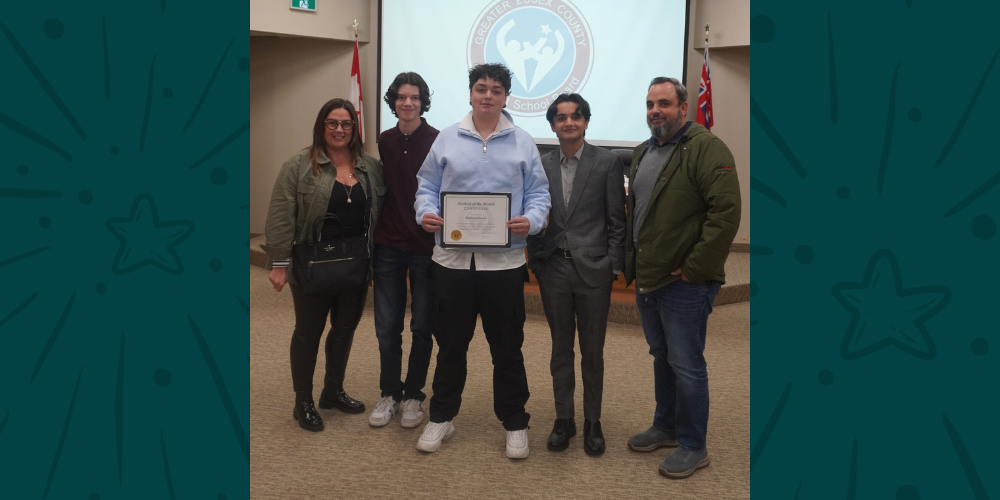 The Student of the Month for November is Hudson Trudeau, a Grade 11 student at Tecumseh Vista Academy. Hudson is an outstanding role model for this month's theme of School Spirit.
Hudson always brings energy to any school event he attends. You can count on Hudson to start a cheer at a volleyball game or to run and sing at the Pink Day Karaoke Dash.
Hudson always lends creativity and his unique touch to Vista's holiday celebrations too. For Halloween, some students go all out, but no one can rock being a 15-year-old grandma or an oversized baby on Halloween Spirit Day quite like Hudson.
His homeroom teacher said, "Hudson brings a special kind of energy to the classroom and for school events which we saw this past week on Pink Day." Of course, Hudson was the first student in line for a hot pink glitter manicure to show his support for Vista's breast cancer awareness campaign.
Hudson's positivity spreads throughout the school. Students say, "He's a really funny guy and he's really enjoyable to be around". One of the great things about Hudson is that he is always enthusiastic and positive. People feel comfortable around him because "he is always just having fun".
Hudson's example encourages others to break out of their comfort zones. He is an amazing role model for Vista's younger students, showing them what school spirit truly means. Hudson's ability to create unity and school spirit is truly a gift within the Tecumseh Vista Academy community.
Congratulations Hudson on being selected as Student Senate's November Student of the Month for School Spirit!