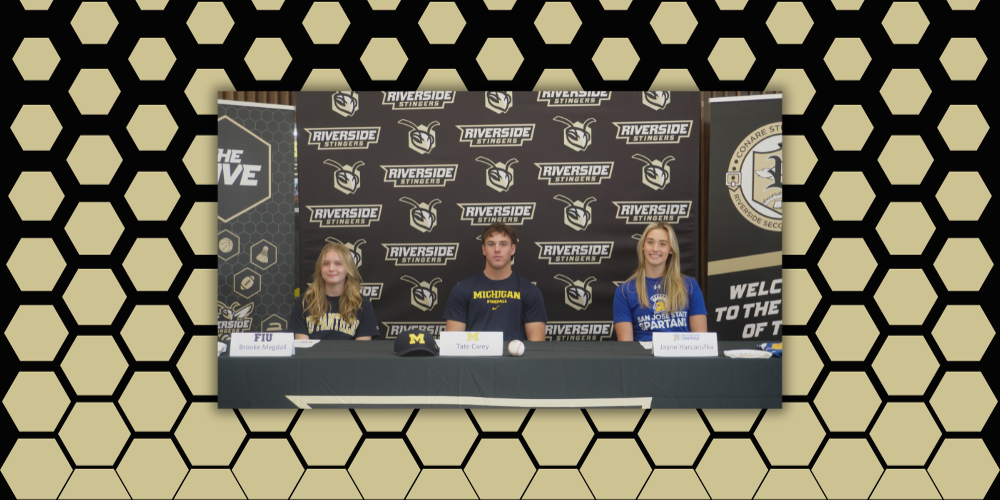 We were invited to Riverside Secondary School to watch a signing event with three students who have accepted athletic offers from schools in the United States. Congratulations to Brooke, Tate and Jayne! Keep reading to learn more about these fantastic Riverside students.
Brooke Megdall
Brooke will be attending Florida International University where she will be studying Psychology. She will be joining the FIU Swim and Dive team, specializing in Platform diving (7 meter and 10 meter).
Brooke currently competes at the national level with the Windsor Diving Club and was the first to receive the George A. Tinnerman Award at Dive Ontario's 2023 Award Banquet.
At Riverside, Brooke is a member of the Prom Committee and was a representative at the Ontario Student Leadership Conference. She volunteered at cross country, track meets, and other activities at the school.
Tate Carey
Tate will be attending the University of Michigan where he will be studying Exercise Science. He will be joining the Michigan Wolverines Baseball team as a right-handed pitcher.
Tate currently plays for the Great Lake Canadians baseball team and Team Canada's Junior National Team.
At Riverside, Tate has been a member of the Senior Boys Basketball team.
Jayne Harcarufka
Jayne will be attending San Jose State University where she will be studying Marketing. She will be joining the Spartans Swim Team and will be swimming butterfly and individual medley for the team.
Jayne currently swims for the Windsor Aquatic Club where she has received numerous awards including the 2023 WESPY Swimming Award Winner, 2023 Quinn Matteis Leadership Award and is a 15x Windsor Aquatic Club Record Holder. She has also been a Canadian Olympic Swimming Trials and World Swimming Championships Trials qualifier and a Canadian Junior Swimming Championship Finalist.
At Riverside, she has been involved in the swim and track and field teams, as well as the Relay for Life committee, Prom Committee and Morning Announcements.