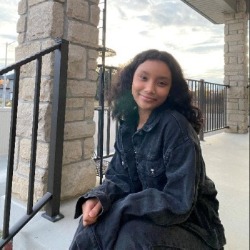 Posted on Monday, December 06, 2021 11:24 AM
Congratulations Soteara Kong!
Soteara is a Grade 11 student at Vincent Massey Secondary School who exemplifies the theme of "kindness".
Soteara is consistently considerate, generous and caring towards others within the Massey community. She is quick to say a kind word, pleasant to be around and ready to lend a helping hand. Radiating with positive energy, Soteara makes friends easily and encourages others which ultimately makes our school community a better place.
Day after day, Soteara sets a perfect...
Posted on Wednesday, December 01, 2021 02:32 PM
Alice Aspinall's teaching style is both thoughtful and innovative. And worthy of a 2021 Prime Minister's Award for Teaching Excellence in STEM (Science, Technology, Engineering and Math) for the Walkerville Collegiate Institute math teacher.
The annual award "recognizes inspirational science, technology, engineering or mathematics (STEM) teachers at the elementary or secondary school level who keep students engaged in STEM learning and who help develop the culture of innovation that Canada...
Posted on Thursday, November 18, 2021 03:14 PM
The Greater Essex County District School Board is pleased to announce that it has begun the process to develop a strategy to dismantle anti-Black racism.
The board's newly formed Anti-Black Racism Steering Committee, comprised of members of Black community in Windsor-Essex, will guide the work of a consultant who will engage in consultations with students, staff, and members of the school community.
In cooperation with the Black community, The Greater Essex County District School Board has...
Posted on Tuesday, September 07, 2021 01:51 PM
2021-09-07
A new school year is here!
It's exciting for all of us, but again this September there is, understandably, an equal level of apprehension. The COVID-19 pandemic has changed many traditional practices and procedures but I hope our customary enthusiasm about the start of school never changes.
You can be confident that we have taken every prescribed measure, followed the advise of professionals and committed all our available resources to preparing for this moment.
I choose to be optimistic,...