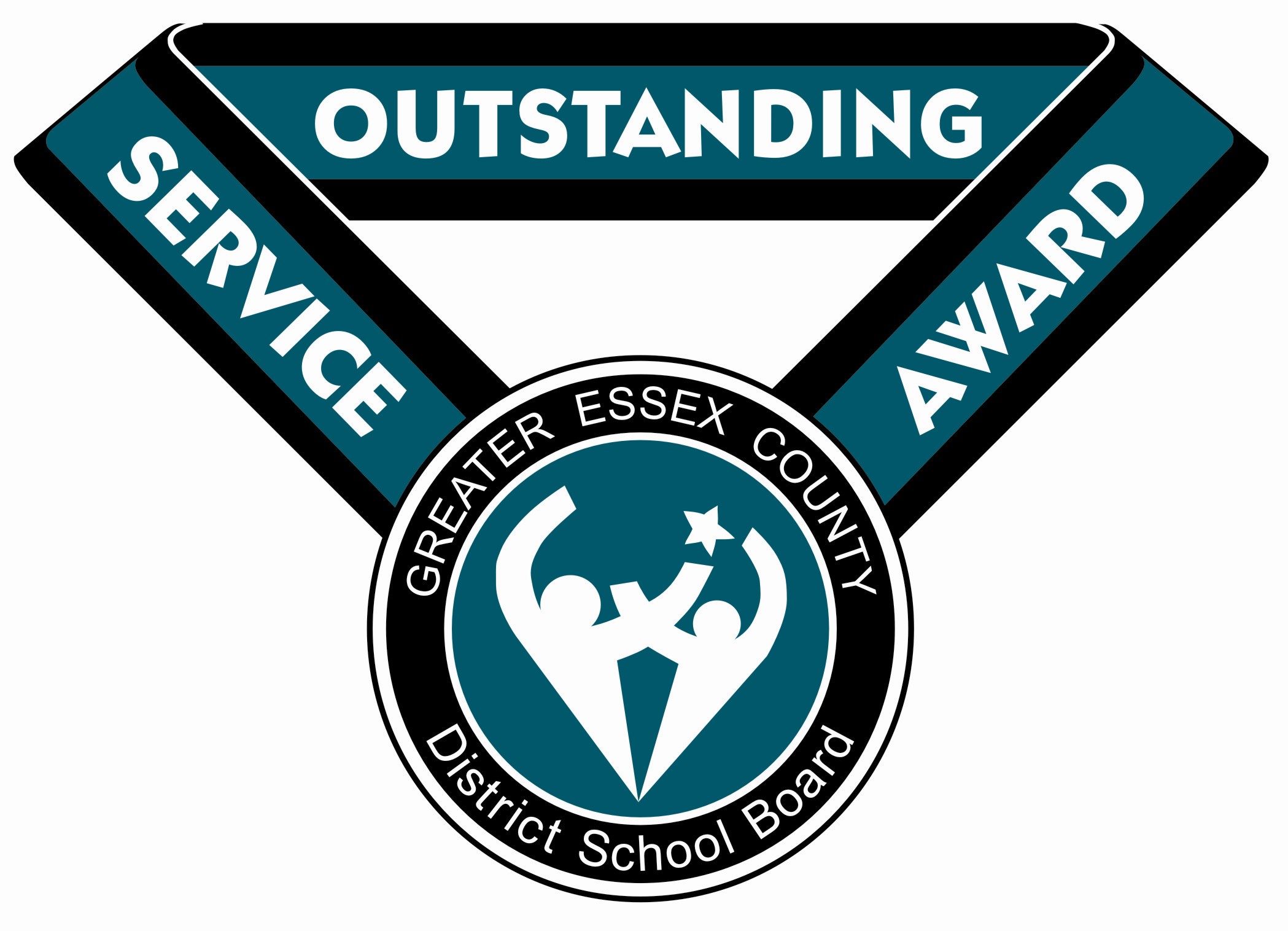 The Greater Essex County District School Board appreciates the efforts of all its employees toward the achievement of the Board's strategic priorities and wishes to acknowledge and celebrate extraordinary contributions of employees to our school system.
Recipients are nominated by their colleagues and must be endorsed by at least 5 staff members. Nominations are accepted each Spring. The Outstanding Service Awards will be presented at a later date.
Example - Outstanding Service Award Nomination
​Please contact Rochelle Langlois at (519) 255-3200 extension 10289 for additional information.
Outstanding Service Award Recipients

| Name | Location | Position | Year |
| --- | --- | --- | --- |
| A | - | - | - |
| Lucy Abbott | Harrow Junior Public School | Secretary | 2011 |
| Ruth Airriess | Amherstburg Public School | Teacher | 2005 |
| Penny Allen | Business Department | Superintendent of Business | 2013 |
| Adele Amato | Sandwich Secondary School | Teacher | 2006 |
| Larry Anderson | Belle River Public School | Principal | 2012 |
| Susan Andrew | Kingsville Public School | Teacher | 2012 |
| Mary Jane Asick | A.V. Graham Public School | Teacher | 2004 |
| Jim Askin | General Brock Public School | Principal | 2000 |
| Alice Aspinall | Walkerville Collegiate Institute | Teacher | 2018 |
| Lee Awad | Sandwich Secondary School | Teacher | 2014 |
| B | - | - | - |
| Rose Baldo | Walkerville Collegiate Institute | Teacher | 2012 |
| Jaclyn Balogh | General Amherst High School | Teacher | 2017 |
| Luanne Bardwell | Roseville Public School | Secretary | 2004 |
| Brian Bartlett | General Brock Public School | Teacher | 2021 |
| Cheryl Beaudoin | Western Secondary School | Teacher | 2016 |
| Kyle Berard | Harrow District High School | Principal | 2014 |
| Bernadette Berthelotte | Program Department | Teacher Consultant | 2020 |
| Maureen Birley | Benson Public School | Secretary | 2007 |
| Michelle Bishop | Queen Elizabeth Public School | Teacher | 2004 |
| Paul Bisson | Tecumseh Vista Academy (Elementary) | Principal | 2015 |
| Annie Bondy | Sandwich Secondary School | Special Education Teacher | 2021 |
| Darren Bornais | Hugh Beaton Public School | Teacher | 2016 |
| Elizabeth Boudreau | Harrow District High School | Teacher | 2007 |
| Sharon Brazier | Harrow District High School | Educational Assistant | 2015 |
| Barbara Brookbanks | Western Secondary School | Teacher | 2002 |
| Herma Brown | Prince Edward Public School | Teacher | 2022 |
| Melissa Brown | Talbot Trail Public School | Teacher | 2012 |
| Natalie Browning-Morgan | Academic Department | Re-engagement & Attendance Counsellor | 2020 |
| Becky Bunn | Mount Carmel-Blytheswood Public School | Teacher | 2014 |
| Cindy Butler | Marlborough Public School | Lunch Aide | 2006 |
| C | - | - | - |
| Josie Calvaruso | Vincent Massey Secondary School | Secretary | 2013 |
| Arline Calvert | W.F. Herman Academy- Secondary | Child and Youth Worker | 2019 |
| Lisa Campbell | Sandwich West Public School | Teacher | 2014 |
| Mary Ann Carpenter | Sandwich West Public School | Teacher | 2011 |
| Larry Carrick | Sandwich Secondary School | Teacher | 2007 |
| Douglas Cecile | Forest Glade Public School | Custodian | 2018 |
| Pete Cecile | Program Department | Teacher Consultant | 2009 |
| Sue Chanko | Program Department | Teacher Consultant | 2012 |
| Lee Chase | Dougall Public School | Secretary | 2003 |
| Jocelyne Chernets | Special Education Department | Psychological Associate | 2010 |
| Carl Chevalier | Media Services | Media Services Technician | 2022 |
| Martha Chobrda | Adult and Continuing Education Centre, Leamington | Secretary | 2018 |
| Jim Ciuciura | Sandwich Secondary School | Teacher | 2005 |
| Janey Colovic | W.G. Davis Public School | Teacher | 2009 |
| Evelyn Corcoran | Payroll Department | Supervisor | 2007 |
| Carlo Cozzetto | Facility Services Department | Maintenance Supervisor | 2012 |
| Jim Craig | Amherstburg Public School | Custodian | 2004 |
| Lisa Cranston | Program Department | Teacher Consultant | 2011 |
| Ingrid Crawford | Program Department | Secretary | 2006 |
| Sloane Crease | Talbot Trail Public School | Educational Assistant | 2008 |
| Tricia Cruickshank | John Campbell Public School | Teacher | 2018 |
| Dr. Marc Crundwell | Special Education Department | Psychologist | 2018 |
| D | - | - | - |
| Joe D'Alimonte | General Amherst High School | Custodian | 2001 |
| Lynn Daniel | Sandwich Secondary School | Teacher | 2008 |
| Danielle DeBroe | Northwood Public School | Educational Assistant | 2007 |
| Tina DeCastro | Program Department | Teacher Consultant | 2015 |
| Brenda Del Duca | Program Department | Teacher Consultant | 2017 |
| Marty Denonville | D.M. Eagle Public School | Teacher | 2009 |
| Mary Dick | Academic Department | Executive Assistant | 2002 |
| Linda Dix | Dr. H.D. Taylor Public School | Teacher | 2003 |
| Doug Doey | Kingsville District High School | Teacher | 2017 |
| Jay Douma | M.D. Bennie Public School | Teacher | 2013 |
| Fred Driedger | Kingsville District High School | Teacher | 2001 |
| Shelley Duben | Program Department | Teacher Consultant | 2010 |
| Nancy Duym | King Edward Public School | Teacher | 2022 |
| E | - | - | - |
| Jennifer Eaton | Queen Elizabeth Public School | Teacher | 2020 |
| Hanaa Elmi | Frank W. Begley Public School | Arabic Transition Teacher | 2019 |
| Helga Enns | Ruthven Public School | Teacher | 2006 |
| Michael Ethier | Amherstburg Public School | Teacher | 2010 |
| F | - | - | - |
| Tina Fabischek | J.A. McWilliam Public School | Secretary | 2009 |
| Rick Farrer | A.V. Graham Public School | Teacher | 2011 |
| Don Fay | Program Department | Teacher Consultant | 2007 |
| Ellen Fink | Dr. H.D. Taylor Public School | Child and Youth Worker | 2008 |
| Andrea Fischer | LaSalle Public School | Principal | 2017 |
| Janis Foy | Program Department | Teacher Consultant | 2021 |
| Susanne Froese | Academic Department | Re-engagement & Attendance Counsellor | 2017 |
| Colette Funkenhauser | LaSalle Public School | Secretary | 2018 |
| G | - | - | - |
| Madi Gale | Kingsville District High School | Teacher | 2020 |
| Kim Garno | Riverside Secondary School | Senior Secretary | 2016 |
| Monica Garrett | Oakwood Public School | Child Care Worker | 2000 |
| Karen Gascoyne | Kingsville District High School | Secretary | 2014 |
| Liz Geier | Program Department | Library Technician | 2003 |
| Stacey George | Forster Secondary School | Teacher | 2010 |
| Nancy Gignac | Special Education Department | Supervising Principal | 2004 |
| Elaine Girard | Amherstburg Public School | Secretary | 2010 |
| Lynda Goatbe | Vincent Massey Secondary School | Secretary | 2009 |
| Karin Gostenik | Hugh Beaton Public School | Child and Youth Worker | 2021 |
| Alan Goyette | Academic Department | Social Worker & Attendance Counsellor | 2017 |
| James Greaves | Vincent Massey Secondary School | Custodian | 2009 |
| H | - | - | - |
| Janet Hannigan | Gore Hill Public School | Teacher | 2003 |
| Fouada Hamzeh | Program Department | Teacher Consultant | 2019 |
| Fred Harding | Facility Services Department | Preventative Maintenance | 2003 |
| Heidi Harnish | Jack Miner & Pelee Island Public School | Secretary | 2017 |
| June Harris | Marlborough Public School | Teacher | 2021 |
| Ron Hart | Century Secondary School | Teacher | 2008 |
| Pat Heron | Gordon McGregor Public School | Educational Assistant | 2004 |
| Paul Hertel | Sandwich Secondary School | Teacher | 2003 |
| Ingrid Heugh | Amherstburg Public School | Teacher | 2015 |
| Carl Heyerichs | Western Secondary School | Teacher | 2012 |
| Roger Hills | Agency Schools | Principal | 2010 |
| Jane Holmes | D.M. Eagle Public School | Teacher | 2009 |
| Audrey Homick | Parkview Public School | Secretary | 2013 |
| Nancy Houde-Marino | Sandwich Secondary School | Guidance Department Head | 2019 |
| Reg Houle | Media Services Department | Graphics Technician | 2003 |
| Vicki Houston | Program Department | Teacher Consultant | 2006 |
| Michael Huggard | John Campbell Public School | Principal | 2017 |
| Angeline Humber | Program Department | Teacher Consultant | 2022 |
| Margaret Hwozdecky | General Brock Public School | Secretary | 2002 |
| I | - | - | - |
| Teresa Iandolo | Prince Edward Public School | Principal | 2018 |
| Christine Inverarity | Glenwood Public School | Teacher | 2016 |
| J | - | - | - |
| Lisa Jeffery | Leamington District Secondary School | Teacher | 2016 |
| Brieanne John | Program Department | FNMI Student Support Worker | 2020 |
| Nancy Johns | Glenwood Public School | Secretary | 2000 |
| Carla Johnson-Hicks | Northwood Public School | Principal | 2011 |
| David Joseph | Program Department | Teacher Consultant | 2014 |
| K | - | - | - |
| Kathy Kaufman | Finance | Senior Accounting Clerk | 2015 |
| Jennifer Kailer | W.F. Herman Academy | Educational Assistant | 2022 |
| Chris Kennedy | Coronation Public School | Custodian | 2016 |
| Tim Klingbile | Riverside Secondary School | Custodian | 2015 |
| Chris Knight | Program Department | Teacher Consultant | 2016 |
| Vickie Komar | Special Education Department | Supervisor - Social Work | |
| Mike Kraus | Human Resources Department | Superintendent | 2010 |
| Carole Kuli | Bellewood Public School | Teacher | 2007 |
| L | - | - | - |
| Ted Laurendeau | Riverside Secondary School | Principal | 2005 |
| Tim Lauzon | Facility Services | Health and Safety Officer | 2021 |
| Linda Lee | Dougall Public School | Early Childhood Educator | 2007 |
| Paul LeFebvre | Forest Glade Public School | Custodian | 2004 |
| Mark Levesque | Special Education Department | Social Worker and Attendance Counsellor | 2011 |
| Heather Liffiton | Special Education Department | Superintendent | 2008 |
| Mike Lilley | Program Department | Teacher Consultant | 2015 |
| Jennifer Lira | Roseville Public School | Vice-Principal | 2013 |
| Dale Lockley | General Brock Public School | Teacher | 2013 |
| Harry Lumley | W.F. Herman Secondary School | Guidance Counselor | 2001 |
| Mary Lynch | Queen Victoria Public School | Custodian | 2005 |
| David Lynn | Academic Department | Superintendent | 2009 |
| M | - | - | - |
| Dona MacInnis | F.W. Begley Public School | General Duty Clerk | 2005 |
| Dorothy Mahoney | Essex District High School | Teacher | 2011 |
| Gina Marcon | King Edward Pubic School | Teacher | 2019 |
| Aaron Martin | Riverside Secondary School | Teacher | 2017 |
| Sheri Masse | Bellewood Public School | Teacher | 2022 |
| Dan Mayville | Anderdon Public School | Custodian | 2012 |
| Neil McAuley | Marlborough Pubic School | Teacher | 2016 |
| Rita Miceli | Glenwood Public School | Teacher | 2015 |
| Mary Middleton | Amherstburg Public School | Teacher | 2003 |
| Pat Miller | General Brock Public School | Educational Assistant | 2004 |
| Jo-Ann Moore | Special Education Department | Administrative Assistant | 2001 |
| Patricia Morneau | Westview Freedom Academy | Social Worker and Attendance Counsellor | 2019 |
| Susan Moroz | A.V. Graham Public School | Principal | 2021 |
| Michelle Mousseau | W.F. Herman Secondary School | Child and Youth Worker | 2010 |
| Bill Murray | A.V. Graham Public School | Custodian | 2020 |
| N | - | - | - |
| Ian Naisbitt | Concord Public School | Teacher | 2000 |
| Jennifer Newton | Special Education Department | Education Coordinator | 2007 |
| Andrea Nikita | Essex District High School | Librarian | 2022 |
| David Norwood | Western Secondary School | Teacher | 2000 |
| O | - | - | - |
| Michael Oddy | Sandwich West Public School | Teacher | 2014 |
| Debra Oehlerking | Concord Public School | Teacher | 2002 |
| Rachel Olivero | Program Department | Diversity Officer | 2005 |
| Gord Osborne | Kingsville District High School | Teacher | 2016 |
| Melody Ouellette | Essex District High School | Guidance Counselor | 2021 |
| P | - | - | - |
| Patricia Pajot | J.L. Forster Secondary School | Child and Youth Worker | 2011 |
| Susan Pallotto | Hugh Beaton Public School | Teacher | 2020 |
| Christine Papadololous | Dougall Public School | Custodian | 2006 |
| Rookaya Parak | Begley Public School | Principal | 2006 |
| Kyle Pearce | Tecumseh Vista Academy- Secondary | Teacher | 2013 |
| Steve Pentz | Prince Andrew Public School | Custodian | 2007 |
| Elver Peruzzo | W.D. Lowe Secondary School | Principal | 2000 |
| Doug Peterson | Program Department | Teacher Consultant | 2002 |
| Sue Petrovic | Administration Building | Secretary | 2019 |
| Donne Petryshyn | Academic Department | Superintendent | 2006 |
| Rod Peturson | Academic Department | Superintendent | 2005 |
| Suzy Pizzicaroli | W.F. Herman Secondary School | Teacher | 2006 |
| Joanne Pizzuto | Concord Public School | Teacher | 2001 |
| Amiee Poirier | Ford City & David Maxwell Public Schools | Teacher | 2017 |
| Debbie Price | Program Department | Teacher Consultant | 2008 |
| Mike Prior | Giles Campus French Immersion Public School | Custodian | 2018 |
| Jennifer Pula | John Campbell Public School | Child and Youth Worker | 2013 |
| Sherry Purdie | General Amherst High School | Senior Secretary | 2015 |
| R | - | - | - |
| Kevin Racine | W.F. Herman Secondary School | Child and Youth Worker | 2012 |
| Terry Raisbeck | Gore Hill Public School | Teacher | 2002 |
| Tommy Rajic | W.F. Herman Secondary School | Custodian | 2013 |
| Lesley Reid | General Brock Public School | Child and Youth Worker | 2016 |
| Kerry Reimer-Jones | Talbot Trail Public School | Teacher | 2014 |
| Lisa Reive | Amgerstburg Public School | Teacher | 2008 |
| Gary Rodregue | Dr. H.D. Taylor Public School | Teacher | 2001 |
| Rob Romano | Northwood Public School | Principal | 2020 |
| Bianca Rota | Campbell Public School | Long-term Occasional Teacher | 2012 |
| Robert Rumble | Queen Elizabeth Public School | Teacher | 2005 |
| S | - | - | - |
| Jack Sanders | East Mersea Public School | Custodian | 2021 |
| Bob Saul | Princess Elizabeth Public School | Child and Youth Worker | 2001 |
| Robert Savage | F.W. Begley Public School | Child and Youth Worker | 2008 |
| Greg Scott | General Amherst High School | Teacher | 2022 |
| Michael Semande | Lakeshore Discovery Public School | Custodian | 2010 |
| Joyce Sills | Southwood Public School | Teacher | 2005 |
| Noella Smyth | Massey Secondary School | Guidance Department Head | 2010 |
| Stephen Snider | David Maxwell Public School | Teacher | 2003 |
| Mary Rose Sparrow | Special Education Department | Social Worker | 2009 |
| Susan Spencer | Hugh Beaton Public School | Teacher | 2019 |
| Gayle Strasser | General Brock Public School | Teacher | 2013 |
| Cherie Steele-Sexton | A.V. Graham Public School | Teacher | 2009 |
| Jeanne Stocks | W.G. Davis Public School | Teacher | 2006 |
| Anna Stokes | Special Education Department | Developmental Management Systems Worker | 2019 |
| Jake Szamburski | - | Occasional Teacher | 2014 |
| T | - | - | - |
| Mark Taylor | Queen Elizabeth Public School | Custodian | 2000 |
| Lloyd Tazzman Jr. | Talbot Trail Public School | Custodian | 2011 |
| Michael Temesy | Tecumseh Vista - Elementary | Custodian | 2019 |
| Dwayne Teskey | Media Services Department | Manager | 2002 |
| Elaine Thompson | King Edward Public School | Teacher | 2000 |
| Bill Toews | Kingsville District Secondary | Principal | 2022 |
| Joyce Tremaine | Dr. H.D. Taylor Public School | Teacher | 2002 |
| Greg Trepanier | Special Education Department | Psychoeducational Consultant | 2016 |
| Carol Tristaino | Concord Public School | Secretary | 2003 |
| Donna Turner | David Maxwell Public School | Teacher | 2018 |
| U | - | - | - |
| Francisco Urbina-Ruiz | Leamington District Secondary School | Child and Youth Worker | 2020 |
| Shawna Vukanovich | Special Education | Educational Coordinator | 2008 |
| W | - | - | - |
| John Wayvon | Ford City Public School | Principal | 2018 |
| Brent Webster | Western Secondary School | Department Head | 2011 |
| Debbie Weeks | Special Education Department | Itinerant Teacher of the Deaf | 2001 |
| Barry Welch | Special Education Department | Education Coordinator | 2021 |
| Barbara Wells | Dougall Public School | Teacher Librarian | 2005 |
| Richard Wells | General Brock Public School | Custodian | 2014 |
| Judy Wilson | Dr. H.D. Taylor Public School | Secretary | 2008 |
| Y | - | - | - |
| Art Youngson | Malden Central Public School | Teacher | 2002 |
| Z | - | - | - |
| Anthony Zanella | Coronation | Custodian | 2022 |