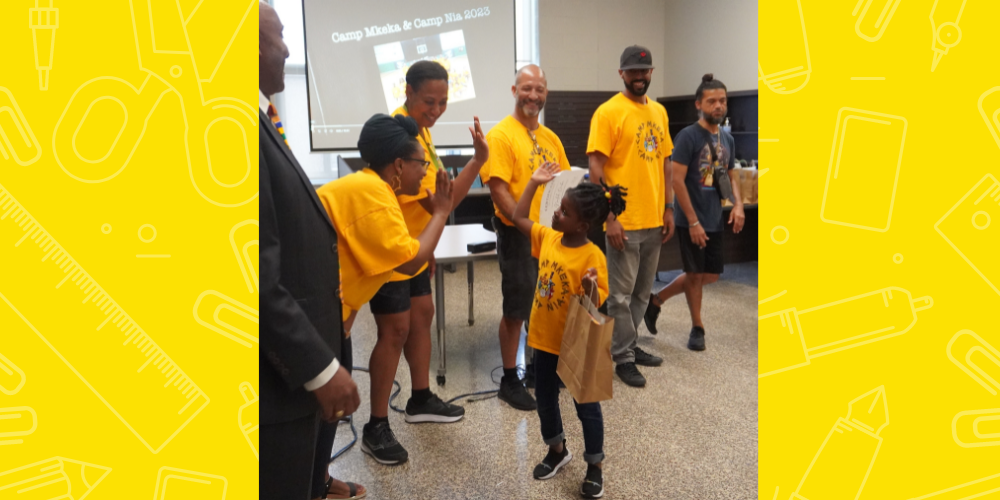 On August 11th we had the opportunity to tour Camp Nia and Camp Mkeka, the GECDSB's Summer Learning Programs for Black Students. Families and community members joined in to learn about Afrocentric storytelling and take part in math and physical fitness activities.
The camps teach students about past and present-day contributions of Black people, in consultation with local expertise and communities. They also focus on identifying, combatting, and healing from anti-Black racism, infusing positive and affirming messages about Blackness, Black communities and Black peoples and making explicit connections that support Black students' self-love, well-being and achievement.
Dr. Andrew Allen, Associate Professor in the Faculty of Education at the University of Windsor and the university's Anti-Racism Pedagogies Teaching Leadership Chair, stated, "'We believe that what we're doing here is a model of what schools can and should be. Starting with building the schools around students and taking care of them – mind, body, and soul."
Students took part in yoga and tai chi classes, drummed with Teajai Travis, visited the John Freeman Walls Historic Site and Underground Railroad Museum, Border City Boxing Club, the murals on McDougall Street and in Old Sandwich Towne, the Tower of Freedom Monument and much more.
The GECDSB would like to thank Carolyn Howlett, Chanelle Jones, Amina Abdulle, Jermaine Jackson, Kim Garno, Fran Spagnuolo, Petra Owusu, Dr. Andrew Allen, Shantelle-Browning Morgan, Dennis K. Smith and all others who have made these camps possible for the second year in a row.