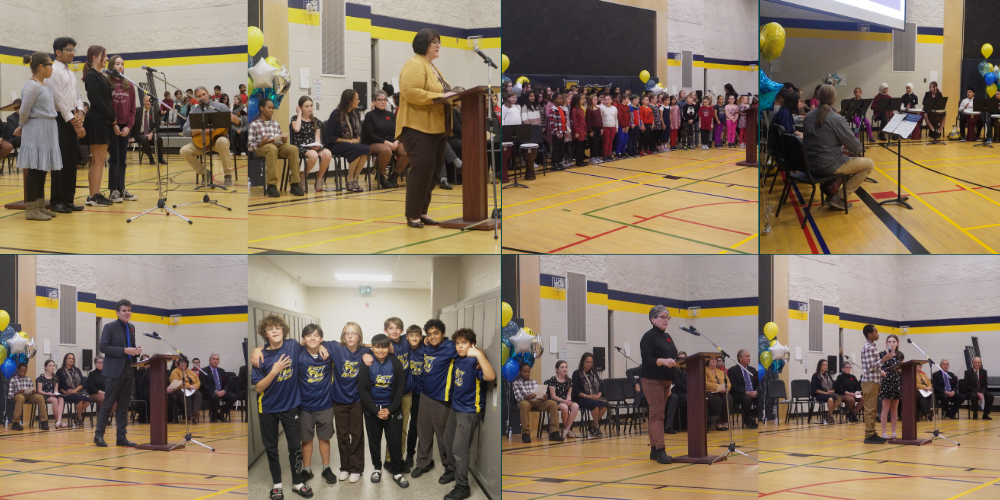 Students, staff, families and community members from the new Eastview Horizon Public School gathered to celebrate the completion of their new school on November 8th, 2023.
Construction for the new school began in May of 2021. Some unavoidable delays led to an adjustment in the timeline for opening, but the GECDSB was thrilled to welcome students into this state-of-the-art facility in September 2024.
The GECDSB Board of Trustees selected "Eastview Horizon Public School" as the name of the new school to reflect the amalgamation of the Eastwood and Parkview communities. The name "Horizon" encourages us to look toward the possibilities that lie ahead.
Director Houston was present to celebrate her first official school opening as the GECDSB's Director of Education and took the opportunity to share her immense gratitude to all those who make opening a new school possible. She added, "I need the staff, students and families to know how much we cherish their interest and understanding. Sometimes things don't always go as planned, but there's great confidence in our board that we'll be done as soon as possible, and we will do it right!"
Vice Chairperson of the Board Cathy Cooke was also present on behalf of the Board of Trustees and Chairperson Gale Simko-Hatfield, "What we have learned from experience is that new schools give staff, students and their families feelings of great pride. They like, I think, that someone has considered them important enough to invest millions of dollars into their future."
Attendees were also treated to several musical performances from some very talented Eastview Horizon students. Enthusiastic student volunteers also led tours of their new school after the ceremony took place.
The GECDSB would like to extend our gratitude to all those who made this school and this event possible. Specifically, we would like to thank:
Kayleigh Dent and Tremaine McLean, Eastview Horizon students and Masters of Ceremony
All of the student musical performers
Nick Arundine, Principal
Tamara Walls-Muise, Vice Principal
Stephanie Slipiec and Felicia Campbell from the Eastview Horizon Parent Council
Cathy Cooke, Vice Chairperson of the Board and the entire GECDSB Board of Trustees
Director of Education Vicki Houston
Superintendent Todd Awender
Superintendent Raquel Roberts
Superintendent Shelley Armstrong
Giuliana Hinchliffe
Brad Gyori
Amandeep Bains
Andrew Dowie, MPP Windsor-Tecumseh, The Ministry of Education and the Government of Ontario
WalterFedy, Architect
Fortis Construction, General Contractor