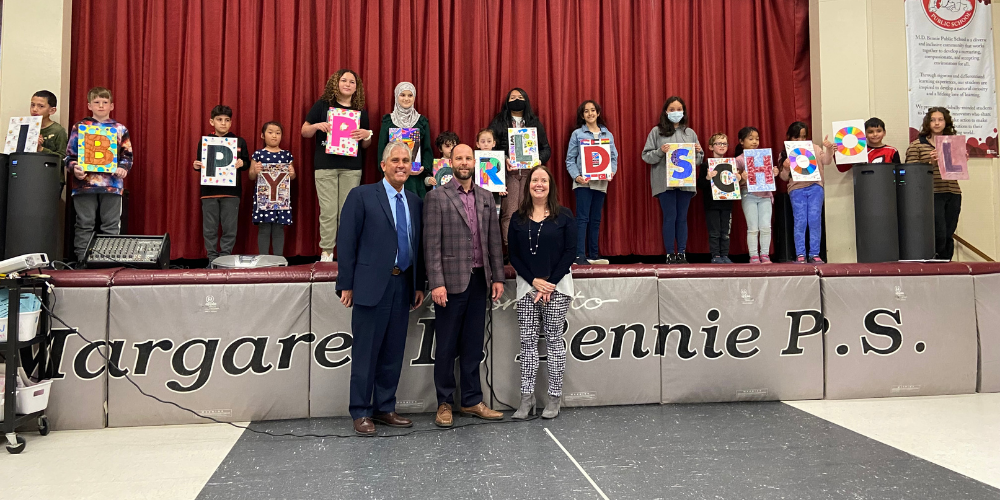 Led by Principal Chris Konrad (pictured above, centre) and IB co-ordinator Ms. Brenda Del Duca, M.D. Bennie staff and students have worked together to complete the rigorous consideration, candidacy, and authorization process. Ms. Del Duca states, "Throughout the whole authorization process we have worked as a collaborative team co-creating our mission, our policies, our agreements, and our planners not only as a staff but in partnerships with our students and our families. Agency, voice, ownership, and action are at the core of IB's Primary Years Programme. Over these past three years we have endeavoured to find a variety of ways as a staff to sit side by side with our students, and our families to reflect, inquire and act together to better understand learning and teaching while making positive contributions to our ever-changing world."
According to IB, these programs aim "…to develop internationally minded people who, recognizing their common humanity and shared guardianship of the planet, help to create a better and more peaceful world." IB students are encouraged to think critically and solve complex problems, drive their own learning, become more culturally aware and engage with people in an increasingly globalized, rapidly changing world.
To date, there are approximately 2,108 authorized PYP Schools in the world, 98 in Canada and 25 in Ontario. M.D. Bennie is proud to be the first authorized PYP world school in Windsor-Essex County area. On May 6th , 2022 Director Erin Kelly (above, right) and Superintendent Todd Awender (above, left) joined M.D. Bennie students and staff to celebrate this outstanding accomplishment. Go Bulldogs!