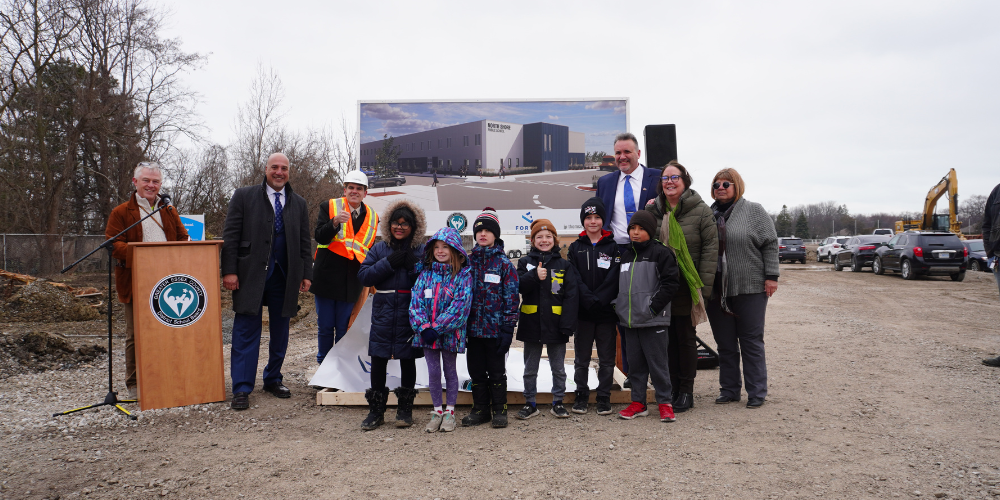 Posted on Friday, March 24, 2023 04:02 PM
The Town of Tecumseh and the D.M. Eagle school community are eagerly anticipating their new school.
This morning Director of Education Erin Kelly, Trustee Connie Buckler and Trustee Julia Burgess were joined by D.M. Eagle students, parents and administration as well as MPP Andrew Dowie, Deputy Mayor Joe Bachetti with representatives from the Town of Tecumseh and Fortis Construction Group to celebrate the ongoing construction of the new school and unveil a sign featuring the exterior design of...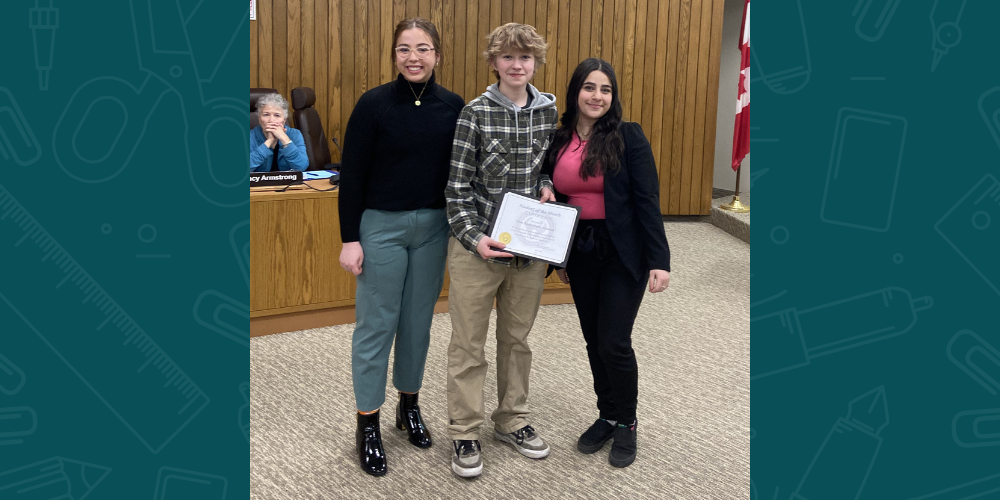 Posted on Thursday, March 23, 2023 09:43 AM
The Student of the Month for March is Finn Rosenkranz-Krausse, a Grade 10 student at Tecumseh Vista Academy. Finn is an excellent role model for this month's theme of "creativity" and has had an significant impact on Tecumseh Vista's artistic culture.
Despite never having been on stage before, Finn auditioned for and earned a leading role in Vista's 2022 school show, The Support Group From Hell. Finn played the part of Wolfgang and provided all of the comedy and creativity that the show needed....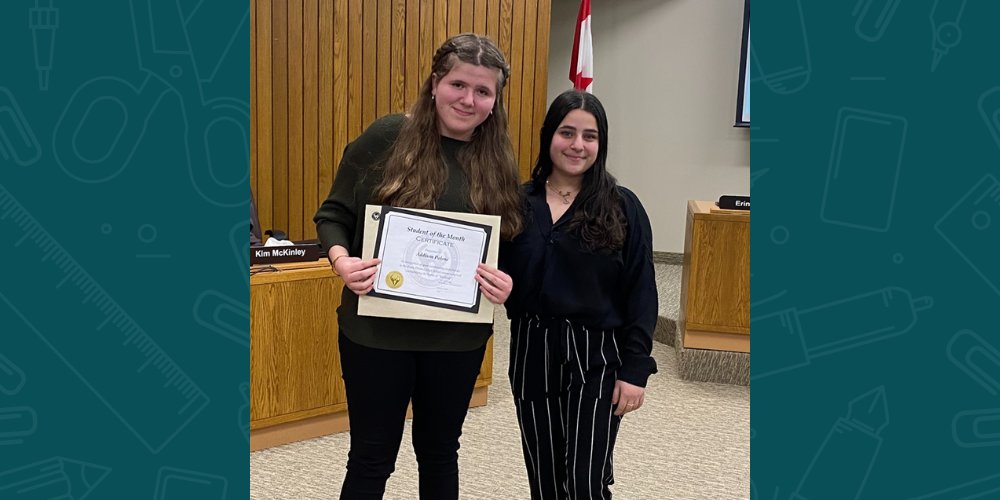 Posted on Wednesday, February 22, 2023 12:55 PM
The Student of the Month for February is Addison Poloni, a Grade 9 student at Essex District High School, an excellent role model for this month's theme of "kindness".
Addison demonstrates kindness in many different ways. She shows genuine interest when she talks to you, and she showers you with compliments.
She is friendly, thoughtful, helpful, considerate and generous. For Addison it goes above and beyond getting along well with her peers or holding doors for classmates. She performs acts of...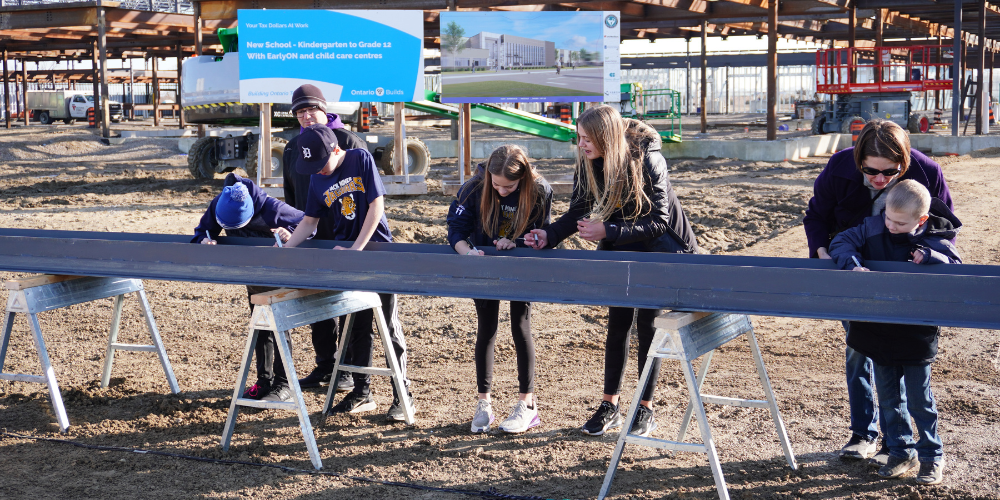 Posted on Tuesday, February 14, 2023 02:49 PM
Everything is coming together at the new Kingsville K-12 school. Fortis Construction Group continues to advance construction toward the scheduled opening date of September 2024, with the final beam being placed on the interior structure of the school this morning.
Fortis Group brought forward the idea to have future students, staff, trustees and community representatives invited to add their signatures to the final beam. Over 50 attendees were given the opportunity to sign their names, with some...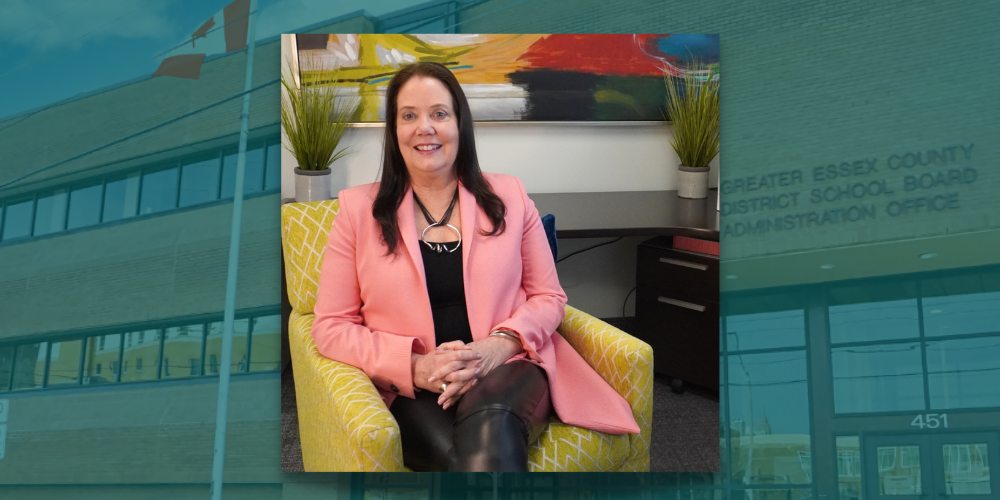 Posted on Wednesday, February 08, 2023 10:47 AM
Effective August 11, 2023 Erin Kelly will be stepping down after a decade as the Director of Education of the Greater Essex County District School Board.
"I am proud of the great things we have accomplished together," Ms. Kelly declared.
"We have managed our resources effectively; there have been many improvements made to our schools and classrooms; and I saw tremendous advancements made for students with unique learning needs. Most of all, though, I am inspired by the way that everyone…staff,...